Copyright 2019 © Deanne Hall Using the gifts of Aura-Soma and Jin Shin Jyutsu, and her extensive counselling experience, Deanne offers consultations at her clinics in Titirangi and Epsom, and from time-to-time in Sydney and Wellington ...
She helps resolve a wide range of physical and soul challenges including emotional release, loss issues, stress, insomnia, pain release, spinal and joint difficulties. In fact, the whole range of health issues.
Clients speak of the insight, peace, balance and energy received through Deanne's work with them. They feel more in-tune with their life-path, and strengthened in readiness to take the next step in their destiny.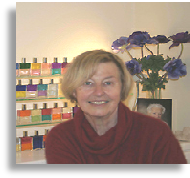 Experience working with Deanne for yourself. Contact her now to arrange an appointment ...
CLICK HERE TO ARRANGE AN APPOINTMENT
OR PHONE DEANNE ON 816 9272
(From overseas add +64 9)
Deanne originally owned her own businesses, then completed a degree in education, psychology and counselling. Her education career spanned over 30 years in state education and Rudolf Steiner schools in Auckland and Wellington. She has extensive counselling experience and has full practitioner training and certification in both Jin Shin Jyutsu and Aura-Soma.